I'm drawing a blank as to what to say here today. Awesome pony merchandise after the break!
First up today is this… frankly, impressive custom fashion style Lyra. Those eyes are hand painted, guys. She also comes with all the completely irrelevant accessories that all fashion style ponies do: a funny little cape-dress thing, a necklace, four shoes, a lyre, and four hairclips. Starts at $80 on eBay!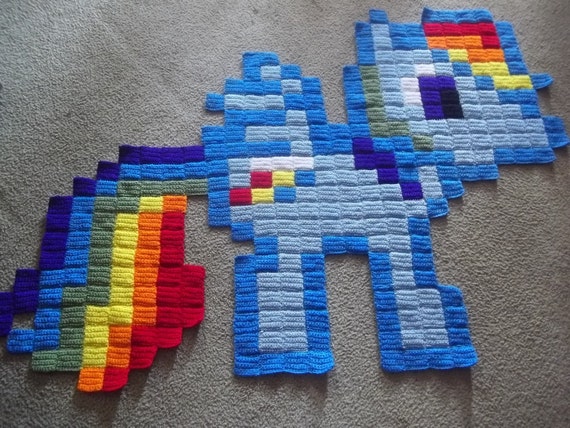 Next is a crochet Rainbow Dash rug! I imagine this would be great either as something to hang on your wall or as a rug on your floor. she's pretty big too—about 4′ 8″ x 3′ 8″ and up on Etsy for about $60!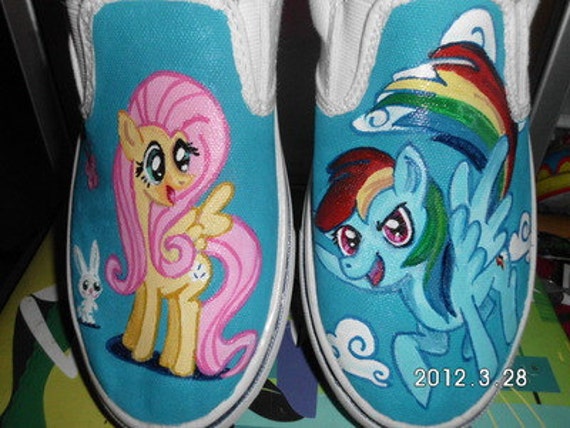 Do you love shoes? 'Cause I do. Shoes are great, and these shoes are extra-great because they have ponies on them. Size 7 men's/8.5 women's, and up on Etsy for $65.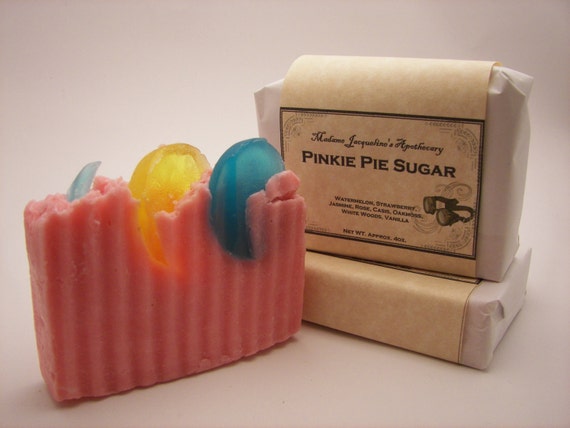 Soap! I love soap! I'm not sure how many bronies out there agree with me here, but I think being clean and nice-smelling is the best. You know what else I love? Ponies! So pony soap being a thing is obviously really awesome.
Plushies
First up for plushies today is, of course, Derpy! The particular Derpy is made to mimic her appearance in The Last Roundup, and even comes with a big raincloud pillow! I suppose you could display her on it, but I would probably display my head on it… That sounded more morbid than it should have.
Awwwww, wookit dis wittle Fwuttershy. She so cyuuuuute.
And I think that's about all that need be said here—bidding is currently at $35 on eBay.
What's that? There's a Cadence plushie up on eBay, with a portion of the final price going to the American Cancer Society? I don't think you understand, I love good causes. She's at $338 on eBay currently!
Flower overload! This cute Fluttershy plushies comes with a saddlebag full of flowers, and also talks! The winner of the auction gets to decide what to have her say, or even have the sound box removed entirely (a great option for those of us that scream every time a plushie starts making noise… or is that just me?)
I feel like there just aren't enough Rarity plushies out there. Would say they're a bit of a… Rarity?
That was terrible. I'm sorry. Plushie currently at $70 on eBay.
And that's it. I'll see you next week. Submit things, etc.!