Wooo Saturday, because I'm a lazy butt. I'm really sleepy. Merchandise for you after the break!
 First up, something I'm particularly excited about, pony bath bombs! For those who don't know much about bath products, you drop a bath bomb in your bath and it starts fizzing and releases gorgeous smells and oils and things that are good for your skin. They're basically the most awesome thing ever. And these ones are cupcake shaped! The frosting is like, actual frosting too, so you can eat it (it also works as an exfoliating scrub, which I think is the intended purpose, but it's not as tasty that way)
Currently they're only available through email because of issues with the sale site. More info and how to order on deviantArt
And here we have a super-detailed, absolutely lovely sculpture… of Pinkie post-diaper changing attempt (as seen in Baby Cakes). I'm rather surprised there aren't more bids. Currently at $56 on ebay
And because everything needs more Pinkie, a super-awesome-fantabulous handpainted animation cel! Yes, yes, the show is made in flash, but one can dream, can't they? The best thing about this is that, it being a cel, you could put pinkie on any background possible. You could have a framed picture of Pinkie bouncing through National Geographic if you wanted. Currently on ebay with bidding starting at $30
But Folly, this is a G4 fansite! I don't care ok these ponies are EDIBLE. Listing is for 6 ponies, and you can request custom colors. Which means that you can devour G1 styled mane six chocolate lolipops. Am I the only one totally thrilled by this???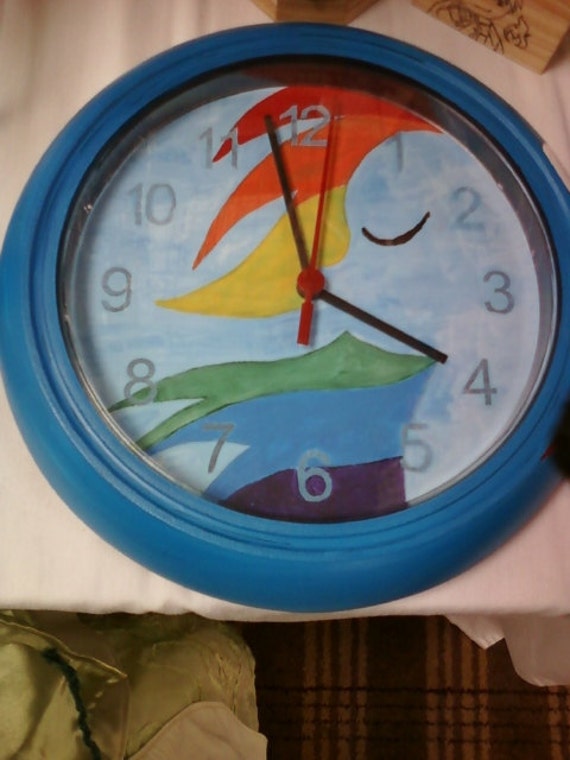 I don't really know why, but I always get really excited when I find MLP clocks. It's just not something you expect to see, so it's always fun to see them!
These clocks are $15 each and customized with whatever pony you want on them
Plushies
Blossomforth, despite her popularity (at least in the crown I chill with), was never the first pony I'd expect to get a plushie of. But here she is! And isn't she gorgeous as always. Oh Blossomforth, I do so love you. Currently at $66 on ebay!
And next up is an adorable Lyra plush, up on ebay for just $40 with less than a day left! Total score if it stays at such a low price.
And of course, our next plush is none other than Derpy! This pretty little thing is 11″ tall and currently at just $60 on ebay, with two days left!
And here's an adorable little fleece Fluttershy plushie! Bidding for her starts at $150, and there's still 20 days or so left on her auction
And to finish off this week's Skymall, a lovely plush of everyone's favorite evil, disfigured queen of the Changelings! I particularly love the wings on this plush… the price tag isn't bad either, though. Currently at just $153 on ebay with less than a day left. If that seems like a lot, you're probably forgetting about the Chrys that went for 3k.
And that's all for this week! I'd say it was a pretty good one (bad for wallets, though). As always, keep submitting! Either hit the big old submit button, or you can email me directly at [email protected] See you next week!