Hello everybody! It's Folly again with another weeks-worth of fabulous fanmade f- …merchandise. Alliteration is hard, okay?
Now, I usually try to keep the blindbag customs to a minimum due to the fact that there are just so many of them, but this is a particularly excellent one. She's up on ebay at the moment with two days left and bids currently at £19.00. I'm too lazy to convert that into USD.
Speaking of awesome customs, fashion style Octavia! She comes with her hair pre-styled, too! She's up on ebay at about $75 right now, with only a day left
Speaking of speaking of awesome customs, is this Bon Bon not totally cool??? I'll admit I'm a huge fan of the 80's look she has going, regardless of show accuracy. She's currently at $15 with just one hour left!!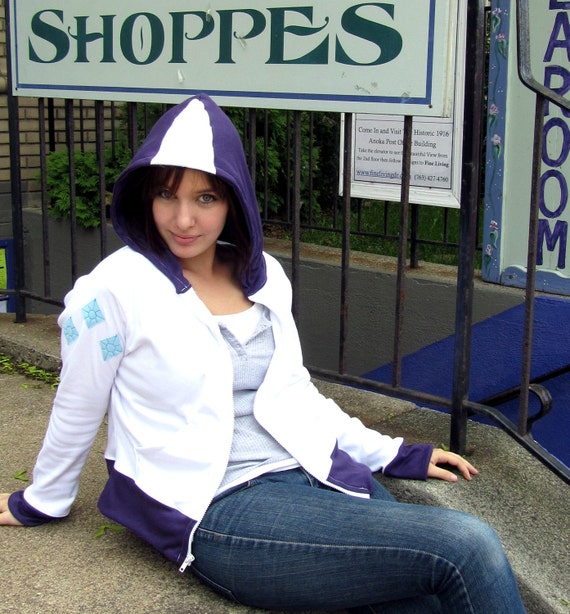 And for those of you who prefer ponywear over customs, here's an artist who does hoodies based off your favorite ponies! Currently for sale are big Mac, Rarity, Rainbow Dash, Discord, Luna, and Fluttershy
Plushies
Awwwwwwww, wookit the wittle woona. Except she's not wittle, she's like 17″, so she's pretty huge, which is AWESOME. Also she comes with an abacus yes really for real oh my god.  Currently at $125 with 5 hours to go
And from the ever so talented RazilleDbx, CMC plushies! Omg, they are so cute. Of course, please do note that they're in separate auctions, I like to put "groups" like this all together to avoid clutter.
I really love it when plushie artists really go the extra mile, or six, or eighteen. This here is a perfect example of going an extra 30+ miles, with a Rarity plushie that comes with a full dressmaker "set", including her FABULOUS cat-eyed work glasses, an in-scale tape measure, design/pattern sketches, a pincushion, green fabric and ribbon, and a full size mannequin plushie. And currently at a mere $125!
Oh my god, is this not the cutest EVER? It is! This sleepy little mailpony is currently up on ebay with bids at about $32 and 8 days or so left.
And that's it for this week, hopefully I'll see some of you next Friday (although I'll understand if you're mad at me for killing your bank accounts). As always, submit your handmade merch either by emailing me directly at [email protected], or hitting the submit button on the site! Yay!
THIS JUST IN: THE MOST SWAG-TASTIC PLUSHIE YOU WILL EVER SEE